Service: Army – 2 Reserve Motor Transport company
Service number: VX36035
Locality on Enlistment: Beeac
Duration of Service: 4 jul 1940 – 17 May 1945
Prisoner of War: Yes
Honours: None for Display
Date and Place of Birth: 15 Mar 1905 London, England
Parents: Francis Sidney SMITH and Gertrude MARSHALL
Spouse: Mary Anne Winifred MEADE
School/s:
Occupation: Labourer
Date and Place of Death: 17 May 1945 Sandakan, Borneo
Place of Burial: Commemorated on the Labuan Memorial, panel 22
,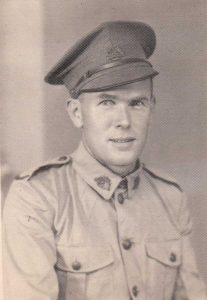 NOTES: Private Smith was one of over 2,000 Allied prisoners of war (POW) held in the Sandakan POW camp in north Borneo, having been transferred there from Singapore as a part of B Force. The 1,494 POW's that made up B Force, were transported from Changi on 7 July 1942 on board the tramp ship Ubi Maru, arriving in Sandakan Harbour on 18 July 1942. Private Smith, aged 40, died of illness, he had been a POW for three long years and had died just three months prior to the end of the war.