Service: Army – 2/5 Australian Infantry Battalion, 2 New Guinea Infantry Battalion
Service number: Vx1017
Locality on Enlistment: East Kew
Duration of Service: 9 Nov 1939 – 1 Nov 1945
Prisoner of War: No
Honours: Military Cross
Date and Place of Birth: 5 May 1921 Birregurra
Parents: Edward REEVE and Florence Amelia Margaret TEVELEIN
Spouse: Joyce Florence REES
School/s:
Occupation: Carpenter
Date and Place of Death: 1 Oct 1977 Lower Templestowe
Place of Burial: Springvale Botanical Cemetery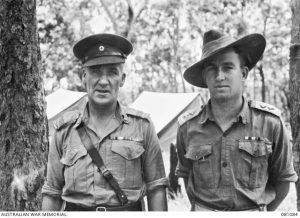 NOTES:
Wau, New Guinea, 7th Feb 1943 found the Australians pressing hard against the Japanese. On the right flank the 21-year-old Lieutenant Reeve and his platoon headed the movement of Bennett's company. They burst into a Japanese position on the eastern edge of the high ridge which overlooked Crystal Creek. The startled Japanese had time for only a few scattered shots before Reeve and his men overtook them. The surviving Japanese fled in disorder leaving Reeve's men in possession of a medium machine-gun, much ammunition and many papers. The Australian platoon continued westward, clearing more Japanese posts as the afternoon wore on. (tothosewhoserved.org)
Lieutenant Reeve was awarded the Military Cross for "Courage & leadership at Crystal Creek 7th Feb 1943". The 2/5th was one of only two battalions that fought all of Australia's major enemies during the Second World War.