Service: Army – 2/14 Australian Infantry Battalion
Service number: VX16235
Locality on Enlistment: Warrion
Duration of Service: 29 May 1940 – 28 Nov 1942
Prisoner of War: No
Honours: None for display
Date and Place of Birth: 13 Jan 1919 Ballarat
Parents: Patrick Powell O'DWYER and Mary SEALY
Spouse:
School/s:
Occupation: Farmhand
Date and Place of Death: 28 Nov 1942 Gona, Papua New Guinea
Place of Burial: Port Moresby War Cemetery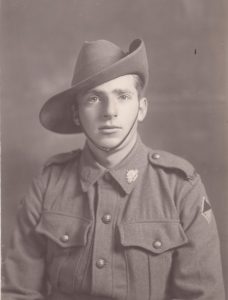 NOTES: Anthony  James O'Dwyer, spent part of his childhood in an orphanage in Ballarat. He came to Warrion as a lad, where he lived and worked with Bill Topp who lived next to Warrion School. He then lived with Stan Tune in a hut in Langs-James Road in Balintore/Ondit. Tony worked around Warrion milking cows and farming onions. He served in the Middle East and on his return from overseas was posted to New Guinea. Private O'Dwyer was killed in action at Gona on 28th November 1942. Gona is on the north coast of Papua and is where the Japanese Forces landed and advanced through the jungle to Kokoda. Australian forces later forced the Japanese back along the Kokoda Trail and in November 1942 there were fierce battles in the area before they finally retook Gona.