Service: Army – 2/6 Battalion
Service number: VX5051
Locality on Enlistment: Peterborough, Victoria
Duration of Service: 24 Oct 1939 – 8 Aug 1945
Prisoner of War: Yes
Honours: None for display
Date and Place of Birth: 3 Jan 1912 Latrobe, Tasmania
Parents: Robert HILLIER and Jane GINN
Spouse: Yvonne Elsie GORDON (nee DOWSE)
School/s:
Occupation: Labourer, Farmer
Date and Place of Death: 16 Jun 1984 Elliminyt
Place of Burial: Colac Cemetery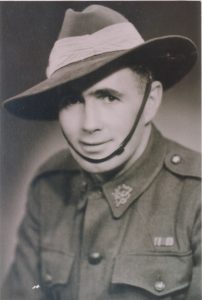 NOTES: Albert Hillier, known as Dan, was born in Tasmania and was the youngest of 10 children. He moved to Victoria and worked around Port Campbell as a labourer during the 1930s. In Oct 1939 he enlisted in the Army and served in the Middle East. In Sep 1940 whilst at Helwan, Egypt, he attended the school of cookery at the rest camp Sarafand and later became a group 2 Cook. The 2/6 Battalion embarked for service in Greece April 1941. Dan was noted as missing in Crete June 1941, reported POW and interned in Germany. He was recovered and arrived in UK 29 April 1945. After the war, Albert married Yvonne Gordon in 1947 at Cobden, and together they ran a farm at Irrewillipe.