Service: Army – 58 Infantry Battalion
Service number: V166121
Locality on Enlistment: Gellibrand
Duration of Service: 11 Oct 1941 – 21 Nov 1944
Prisoner of War: No
Honours: None for display
Date and Place of Birth: 2 Oct 1921 Birregurra
Parents: Michael John DAFFY and May Jane STEVENS
Spouse: Dulcie Elizabeth GRANT
School/s:
Occupation: Forester
Date and Place of Death: 3 Nov 1984 Ballarat
Place of Burial: Ballan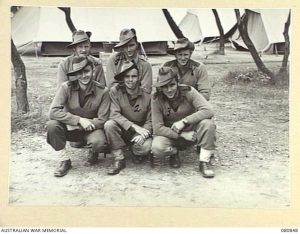 NOTES: Photo Description – Melbourne, VIC. 1944-02-25. Personnel of the 58/59TH Infantry Battalion, 15TH Infantry Brigade at the Watsonia camp before a victory loan march. Identified personnel are:- VX143617 Private K.F.F. FRAZEL (1); VX147108 Private E.W. WAKFER (2); VX147560 Private A.L. KING (3); V160223 Private H.E. STIRLING (4); V166121 Private W. DAFFY (5); V160216 Private N. RIDDLE (6).