Service: RAAF – 83 Squadron
Service number: 408904
Locality on Enlistment: Lavers Hill
Duration of Service: 20 Jun 1941 – 18 Jun 1943
Prisoner of War: No
Honours: None for display
Date and Place of Birth: 1 Apr 1913 Goulburn, NSW
Parents: Joseph Edwin CUMMINGS and Lizzie Florence SALMON
Spouse: Kathleen Helen HARROLD
School/s:
Occupation: Salesman, Dairy farmer
Date and Place of Death: 18 Jun 1943 Scredington, Highgate Farm, Lincoln, UK
Place of Burial: Grantham Cemetery Lincoln UK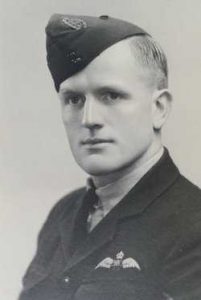 NOTES: Max enlisted in the RAAF and was sent to serve with the RAF in England. He was engaged in a number of bombing missions over Europe in Lancasters. His squadron was in training for the famous "Dambusters" operation. On the 18 Jun 1943, Max was piloting an aircraft on a practice bombing mission with a crew of 7 plus 2 passengers. In bad weather, the plane appeared out of the cloud above Scredington village in Lincolnshire. It was on fire and attempting a forced landing. It hit buildings, bounced over a road and ditch, before crossing a field and landing in a stand of trees. The plane burnt on impact with all on-board being killed. A marble plaque is at the Scredington village church to commemorate the men who died in the crash.