Service: RAAF
Service number: 174601
Locality on Enlistment: Melbourne
Duration of Service: Nov 1944 – 25 Jan 1946
Prisoner of War: No
Honours: None for display
Date and Place of Birth: 11 Mar 1926 Colac
Parents: Percy Vernon CHANT and Daisy ALLAN
Spouse: Henri Joseph SCHILLER
School/s: Warrion State School, Ballarat College
Occupation: Home duties
Date and Place of Death: 17 Sep 1975 Melbourne
Place of Burial: Cheltenham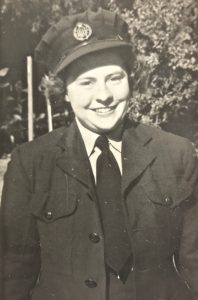 NOTES: Una met and married a man of German Jewish heritage who escaped from Nazi Germany before the war. His family, other than one sister, were Holocaust victims. Henri fought with the French Army and later the French Resistance against the Nazis.Una and Henri met as workmates in Melbourne soon after he had emigrated to Australia.