Service: Australian Army
Service number: VX 24391
Locality on Enlistment: Bentleigh Victoria
Duration of Service: 17 Jun1940 – 31 Aug 1945
Prisoner of War: Yes
Honours: None for display
Date and Place of Birth: 7 Jun 1909 Colac, Victoria
Parents: John Thomas BELL and Isabella Magdalene BESLEY
Spouse: Jean McKENZIE (1), Margaret (Molly) MITCHELL(2)
School/s:
Occupation: Bricklayer, Farmer
Date and Place of Death: 12 June 1995. Pinetown, South Africa
Place of Burial: Pinetown KwaZulu NatalSouth Africa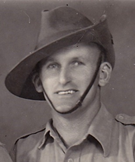 NOTES: A member of the Colac Fire Brigade, John joined the Army in 1940 and was in the same Battalion as his brother Walter. After sailing to Egypt, they went to Libya, Greece and landed on Crete where they were soon separated. John was captured some time before April 1941. He may have been in a prison camp initially but then worked on farms with the locals. After the war he holidayed in Scotland before returning to Colac. He eventually moved to South Africa to visit his sister, Isabel, and met and married Molly.