Service: Australian Women's Army Service
Service number: VF396149
Locality on Enlistment: Lorne
Duration of Service: 26 Nov 1942 – 18 Dec 1945
Prisoner of War: No
Honours: None for display
Date and Place of Birth: 22 Jun 1923
Parents: Hugh Lamont WILSON and Mary Agnes YEATMAN
Spouse: Ernest Robert GLEED
School/s: Barongarook SS
Occupation: Housewife
Date and Place of Death: 9 Dec 2016 Geraldton Western Australia
Place of Burial: Geraldton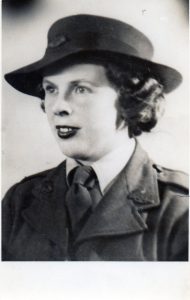 NOTES: Born in Colac Stella was a cook in the Army. She married Ernest Gleed in Colac and after the war moved to Geraldton WA. Together they had 8 children.