Service: Army
Service number: VX128405
Locality on Enlistment: Lorne
Duration of Service: 13 Oct 1943 – 14 Nov 1946
Prisoner of War: No
Honours: None for display
Date and Place of Birth: 11 Sep 1925 Beech Forest
Parents: John ROGERS and Ivy Grace FRANCIS
Spouse: Vera WILSON
School/s: Beech Forest and Lorne
Occupation: Fisherman
Date and Place of Death: Geraldton, Western Australia
Place of Burial: Geraldton Lawn cemetery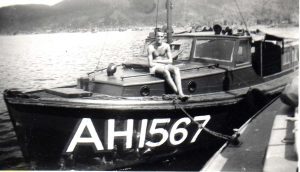 NOTES: William (Bill) began fishing in Lorne and purchased his first boat at 14. He served in the Army Water Transport in New Britain and New Guinea. After visiting family in Geraldton WA and he saw how the Lobster industry was thriving, he decided to move. He sailed his 39 ft boat 'Moyne', with crewman Douglas Paterson, from Lorne to Geraldton in January 1956. His wife and three daughters followed later that year and a son was born in 1958. He continued in the fishing industry until he retired. Bill had 7 grandchildren and 4 great grandchildren when he passed away in 2004.