Service: Army – 2/7 Australian Infantry Battalion
Service number: VX8406
Locality on Enlistment: Colac
Duration of Service: 24 Nov 1939 – 27 Jul 1945
Prisoner of War: Yes
Honours: None for display
Date and Place of Birth: 18 Jun 1914 Geelong
Parents: Herbert George PEART and Hannah Ada GILLET
Spouse: Dawn Flora WOODS
School/s: Ellminyt State School, Colac High School
Occupation: Butcher
Date and Place of Death: 31 Aug 2000 Ballarat
Place of Burial: Ballarat New Cemetery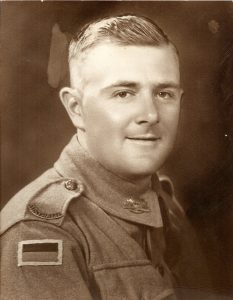 NOTES: Bert was 6 weeks old when his parents moved to Colac. Bert's ambition to be a teacher was thwarted by the Depression. He eventually found work at Hurst Butchers, working there for nine years.  As a hobby he bred, showed and raced pigeons. He joined Colac Amateur Cycling Club, racing in the 1938 Melbourne to Warrnambool bike race and the 1939 Colac to Melbourne race. Battle of Crete – The 2/7th Battalion was left behind without ammunition or food when the Royal Navy, which evacuated allied soldiers, didn't have enough ships for them.  Bert became a POW on 1st June 1941 and he was interned in Stalag 13c in Hammelburg, Germany.