Service: Army – 2/1 General Transport Company
Service number: VX38222
Locality on Enlistment: Warncoort
Duration of Service: 25 Jul 1940 – 4 Jan 1945
Prisoner of War: No
Honours: None for display
Date and Place of Birth: 12 Aug 1915 Warracknabeal
Parents: Henry John OSBOURNE and Elsie POMROY
Spouse: None
School/s: Alvie PS and Colac High School
Occupation: Farm labourer
Date and Place of Death: 4 Jan 1945 Papua New Guinea
Place of Burial: Lae War Cemetery Papua New Guinea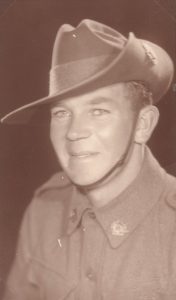 NOTES: John Henry Osbourne, known as Jack, was a former member of the 23/21 Battalion of the Militia and promptly answered the call when war broke out, enlisting on 25 Jul 1940. He trained with the AIF in Australia and served in the Middle East.  After returning from overseas, he served at northern battle stations in Australia and then in New Guinea, where he died of wounds. He is buried at Lae War Cemetery in Papua New Guinea.