Service: Army – 19 Battalion Volunteer Defence Corps
Service number: V390441
Locality on Enlistment: Alvie
Duration of Service: 14 Jan 1943 – 21 Sep 1945
Prisoner of War: No
Honours: None for display
Date and Place of Birth: 11 Feb 1895 Mepunga
Parents: Michael John LAWLOR and Sarah Elizabeth MANSBRIDGE
Spouse: Juanits Daphne CRIMMIN
School/s:
Occupation: Dairy Farmer
Date and Place of Death: 17 Jan 1976 Colac
Place of Burial: Colac Cemetery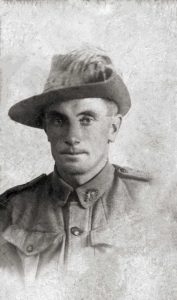 NOTES: William (Bill) joined up after the Battle of Gallipoli and served in the 8th Light Horse Regiment in the Middle Eastern Theatre of WW1. Bill returned to Australia and in 1920 was granted land at Alvie through the Discharged Soldiers' Settlement Act. He married the following year and fathered seven children. Bill, two sons (Roy & Bryan) and a daughter (Sheila) enlisted in the Military in WW2.