Service: Army – Vic LofC Car company
Service number: VX72313
Locality on Enlistment: Erica, Vic
Duration of Service: 16 Jan 1942 – 25 Mar 1946
Prisoner of War: No
Honours: None for display
Date and Place of Birth: 5 Oct 1921 Beech Forest
Parents: Thomas KELLY and Alice Dale LAMB
Spouse: Betty May BAKER
School/s:
Occupation: Timber worker
Date and Place of Death: 1 Aug 2004 Colac
Place of Burial: Colac Cemetery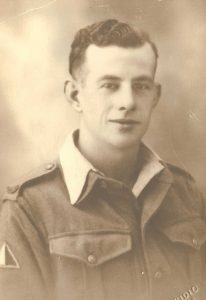 NOTES: Ronald James Kelly was born in 1921 in Beech Forest, where his father Thomas, was employed as a teamster.  In 1939 Australia was at war and in 1942 when Ronald was 20 years of age he enlisted in the Army and after serving for four years he was discharged in 1946. He married Betty May Baker in 1947 in Victoria and they had three children during their marriage. He died in 2004 in Colac, Victoria, at the age of 82.