Service: Australian Army – Women Medical Services
Service number: VF514924
Locality on Enlistment: Malvern
Duration of Service: 5 Feb 1944 – 21 May 1946
Prisoner of War: No
Honours: None for display
Date and Place of Birth: 3 Feb 1926 Terang
Parents: Albert Oscar HENRIKSEN and Eva JOHNSTONE
Spouse: Arthur Percival ROURKE (labourer at Forrest)
School/s:
Occupation:
Date and Place of Death: 5 Apr 2012 Melbourne
Place of Burial: Tyabb Cemetery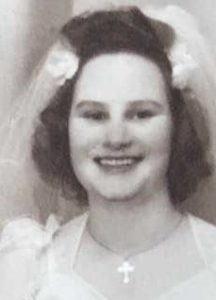 NOTES: Lois was associated with VX36974 Robert GeorgeTowers of 2/29 Battalion as his sweetheart. Before leaving for overseas service, Towers gave Lois a brooch which he had cut out and made from an Australian florin. He wore the corresponding outer part around his neck with his identity discs. He said to her that when the two parts were joined together the war would be over and he would be home with her forever. Towers was posted to Malaya and was subsequently captured by the Japanese. Lois heard about him when she was working in a ward where ex-POWs were being treated by the Australian Army Medical Womens Service. One of the men had been in a POW camp in Japan with Towers and had been with him when he died of illness on 8 November 1943. He knew of an officer who had brought Towers' effects home with him, and he arranged for the effects to be sent to Towers' mother, whose address Lois gave to him. She went to see her sweetheart's mother and amongst the effects was the corresponding part of her brooch.