Service: RAAF – 78 Squadron
Service number: 419647
Locality on Enlistment: Geelong
Duration of Service: 11 Sep 1942 – 26 Jun 1944
Prisoner of War: No
Honours: None for display
Date and Place of Birth: 17 Sep 1923 Beeac
Parents: George William Dupe HARRIS and Hilda May BREARLEY
Spouse: None
School/s:
Occupation:
Date and Place of Death: 26 Jun 1944 Hollandia, Dutch New Guinea
Place of Burial: Lae War Cemetery, New Guinea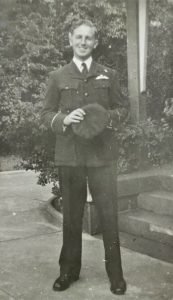 NOTES: On approach to landing at Cyclops Strip, Hollandia, DNG, whilst returning from a four aircraft Base Area Air Patrol on 26 Jun 1944, the plane's engine cut out. The pilot, F/O John Chaster Harris attempted a forced landing but undershot the strip, crashing and then bursting into flames. Unfortunately Harris was killed, and his remains transported to the No 24 Medical Clearing Station. He was interned in USAAF Cemetery No 1, Hollandia, Plot 1, Row 1, Grave #3 on the 27/06/44.