Service: Australian Women's Army Service
Service number: VF395504
Locality on Enlistment: Port Melbourne
Duration of Service: 1 Oct 1942 – 29 Oct 1945
Prisoner of War: No
Honours: None for display
Date and Place of Birth: 6 Jan 1922 Prahran
Parents: Albert Edward DOWSE and Winifred Eva HANSON
Spouse: Ronald Harold GORDON (1) Albert Arthur HILLIER (2)
School/s:
Occupation: Herd Tester
Date and Place of Death:
Place of Burial: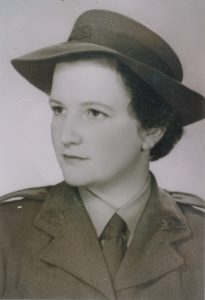 NOTES: Yvonne married Ronald Gordon in 1940 prior to him enlisting in the Army. Just two years later her husband was listed as missing in Malaya and her brother, Albert Dowse died in Bonegilla Military Hospital after escaping from Rabaul. That same year, Yvonne enlisted in the Army and was sent to a motor and driving school. She was posted to 3rd Ambulance Company and worked out of a depot in South Melbourne. She was transferred to Puckapunyal, where she mainly undertook daily trips to Heidelberg and convalescent homes. After twelve months she was posted back to the Transport Depot in South Melbourne to sort out the records. Yvonne was later posted to the RAP at Royal Park, which was very busy with troops filing through for discharge. She had heartbreaking memories of those disabled, emancipated men returning as ex-POWs of the Japanese. See Coladjins, n.112, p.4 for a more detailed story.