Service: Army – 2/29 Australian Infantry Battalion
Service number: VX47584
Locality on Enlistment: St Kilda
Duration of Service: 2 Aug 1940 – 15 Apr 1946
Prisoner of War: Yes
Honours: None for display
Date and Place of Birth: 16 Jun 1914 Colac
Parents: David Thomas FOX and Ellen Mary BISHOP
Spouse:
School/s: St Brendans Coragulac
Occupation: Railway worker
Date and Place of Death: 14 Dec 1967 Warrnambool
Place of Burial: Colac Cemetery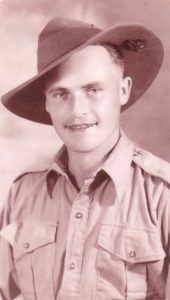 NOTES: Frank was part of the 2/29 Infantry Battalion arriving in Singapore in Aug 1941. They were sent to northern Malaya, reaching Bakri on 17 Jan 1942, the Japanese attacking the next day. With its ammunition exhausted, casualties mounting, and no chance of relief the combined Australian-Indian force struck out through the jungle on 23rd January for Yong Peng. Only 130 from the 2/29th made it.  After Bakri, the 2/29th was reinforced with 500 men recently arrived from Australia – and subsequently fought as part of the defence of Singapore, but by 15 February the British command on Singapore surrendered. Now a prisoner of war, Frank was sent to Burma. His group was subjected to horrendous forced marches of hundreds of kilometres. Work parties were forced out every day to work on the notorious "death railway". Later survivors were returned to Changi Prison in Singapore. Frank survived being a POW and at wars end spent some time in Heidelberg Repatriation Hospital with nerve problems. After being discharged he went back to the Railways.