Service: Army – 2/22 Australian Infantry Battalion
Service number: VX46521
Locality on Enlistment: Hampton
Duration of Service: 16 Jul 1940 – 1 Jul 1942
Prisoner of War: Yes
Honours: None for display
Date and Place of Birth: 9 Mar 1922 Caulfield
Parents: Peter Andrew DEPPELER and Martha Helen YOUNG
Spouse:
School/s: Oakleigh and Beech Forest State Schools
Occupation: Clerk
Date and Place of Death: 1 Jul 1942 Pacific Ocean, South China Sea
Place of Burial: Rabaul War Memorial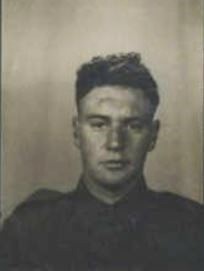 NOTES: The ship Montevideo Maru unmarked as a POW ship and proceeding to Hainan Island when it was torpedoed and sunk by the American submarine Sturgeon near the northern Philippine coast on 1st July 1942.  There were no survivors among the 1054 prisoners, although several Japanese did survive the sinking. Of the Colac & District soldiers who were on-board the Montevideo Maru when it sank, Donegan was in the Fortress Engineers and the others were all from 2/22 Australian Infantry Battalion.
Harold Leonard CRADDOCK VX24078 age: 33 – residing in Colac
Clifford Peter DEPPELER VX46521 age: 23 (actual age 20) – resided in Beech Forest
John Francis DONEGAN SX38277 age: 24 – born Beeac
Ronald ENSTON VX23764 age: 24 – born Colac
Edwin Austin FISHER VX31792 age: 29 – born Colac
Robert Darcy McMINN VX24105 age: 37 – residing in Apollo Bay
Horace George NEWMAN VX24138 age: 32 – Henry's Mill, Otway Ranges
Leslie John SEACH VX38851 age: 36 – born Bambra
Duncan Henry THOMSON VX24140 age: 21 – residing in Colac