by Noreen McAdam
Did you know that the first tractor was invented in Bedfordshire in 1902?
It is the same English shire where a remarkable-mother-to be of 11 children was born. It is a far cry from the bullock-driven drays of 1852 that were to pull her and the King family sawmills around the primordial bush of the colony of Victoria in 1852. This was Ann King (née Woods) my paternal great grandmother, an extraordinary woman who was to endure great privation in an uncharted land.

Ann was born in Bletso Bedfordshire in 1838 the fifth of eight surviving children of Samuel and Elizabeth Woods. She was to become very familiar with bullocks! In 1846, her family emigrated from Bedfordshire to the bottom of the known world; lured by gold and the promise of free land. Ann was just eight years old.

Like so many, Ann was sailing to a dark unexplored land of indigenous first peoples that had been colonised by white men only fifty years prior to her arrival in Adelaide on the ss Phoebe.

Serendipitously, a family named King was to chart the same perilous journey on the ss. Oregon six years later in 1852. Listed in the ship's manifest accompanying the family was their 'literate' 16-year-old son, John William King.
That dangerous journey took 4 months. On this vessel there were a total of 363 'souls', 211 married, 152 single. During the voyage 6 males and 1 female were born; and there were 7 deaths—1 female adult, 3 male children, and 2 male and 1 female infants.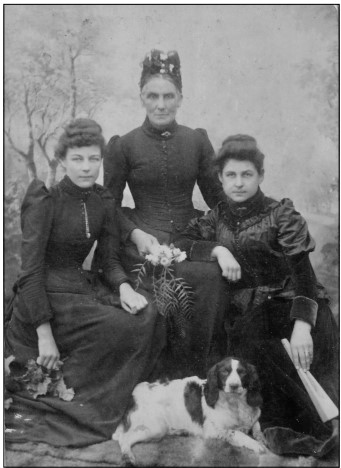 Ann Woods and John King were to survive the
journey and to subsequently meet and marry in
Adelaide in 1855. The marriage certificate lists
Ann as 17 and John 20. Ann was actually 16 at
the time, two months shy of turning 17!

She went on to bear 11 children, one of whom
was my grandfather. Ann had her first child 8
months after the marriage.

Ann barely had time to adjust to being a mother
before being carted off to the Victorian colony
becoming the domestic mainstay of the King
saw-milling extended-family as it travelled the
countryside with its portable sawmill, including
the Dunkeld district.

Ann King bore 11 children. Here she is with two of her nine surviving children: teenager Flora on the left and
older sister Mary ('Polly') on the right. The photograph reveals a trim woman in her 60s, her expression
eloquently highlighting what must have have been her formidable strength of character.
Her early pioneering life was spent on the road with the bullock teams as the King family first carted supplies to the goldfields and later owned sawmills and transported logs and timber. No tractors then! Beds were usually hay bags slung under the wagons.
With a 15 month-old baby at the hip and 5 years after she was married, her second son, Samuel, was born The birth took place under a dray, by the roadside at Springs near Lexton. Sadly he only lived for eight month. Ann was a mere stripling at 22.

The hardship endured by this young mother is hard to grasp in today's contemporary world. Nine more children came, at two-yearly intervals. Her last child was born when she was 43. Sadly too, this late-life child, Deborah, died aged 2.
By then, Ann had four youngsters under eleven-years-of-age, three adolescents and three twenty-plus-year-olds.
The word 'mother' encompasses a lot!
Ann the sturdy matriarch outlived John, her husband. She was a widow for 20 years, astonishingly living until she was 90 year old.
The strength and adaptability of this woman is remarkable. John as a young groom in England had been taught to read and write. A man of his time, he believed Ann did not need to. She just 'made her mark' on the marriage certificate.

Remarkably in her eighties—and perhaps because she was out of the shadow of her husband—she learnt to read, taught by a 14 year-old who had just left school. That 14-yearold was my father, Reg King—a motherless grandson that she had also taken under her wing and helped raise.
Ann Elizabeth King, the mother of my tribe, was a remarkable human being: resilient, tough, caring and adaptable. She endured unimaginable privations in a strange country. She made her mark.
A mother worth saluting and celebrating.