Raised in Colac now living in England, Allan wanted to see his home town for probably the last time.
Allan Neul Wallace was born and raised in Colac. the son of Nuel Woolvett Wallace and Alice Gertrude Louisa Hamlyn. He currently lives in England.
Alan is unwell and decided to take a nostalgic visit to his home town. He wanted to walk down the main street, visit Lake Colac, the Colac Railway Station, both of the schools he attended – Colac High School and Colac State School, the old saleyards (now Woolworths), the Colac Hospital where he was born and the Methodist Church, now Quinns Funerals.
We were fortunate that he decided to call into the History Centre during his visit and and share some family history and some childhood memories.
The Wallace family owned two houses side by side in Murray Street East – No 41, a brick house and No 43 a grey weatherboard house which was on the corner of Polwarth and Murray Street. We asked Allan if the homes had names and he believed they did, but he wasn't able to remember them.

The houses were very conveniently situated opposite the Esso Service Station which was owned by Allan's father, Neul Wallace.There is now a car-wash on the site where the service station once stood.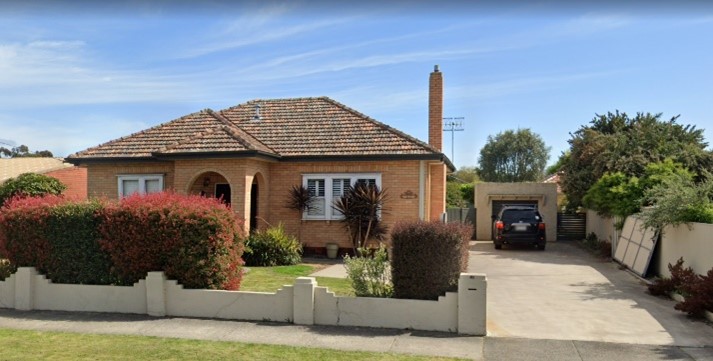 The grey weatherboard house was built in the early 1900s by Allan's grandfather, George Andrew Clarke Wallace, and the brick house was built years later by his father. Before the brick house was built, there was a Chinese man living on the block. Allan remembers that he had a wooden shed and a well.

When Allan's father bought the land, he found lots of corks under the floor boards of the wooden shed, seemingly confirming the rumours about "hooch" being sold there and that his neighbour had owned and operated his own still.

Both properties extended through to Lyons Street. There was room for chickens and even 2 cows, which were kept right through the war, along with plenty of room for growing vegetables.
Allan and his siblings attended Colac State School and Colac High School. Before them, Allan's father had also attended the High School which was called Colac Agricultural High School at the time. His family also attended the Methodist Church.
Photographs: The original Colac State School, The Colac Agricultural High School and The Methodist Church
When his was young, Allan's unmarried aunt lived in the grey wooden house next door and the boys would jump over the fence and go into her garden. She would sing out to them not to do that because "I am not making wooden legs today". Allan laughed as he said that they grew up thinking his aunt made wooden legs for a living.
She also often complained to his mother that the boys were "trampling all over her garden", but as Allan remembers it, the garden seemed to be full of knee high weeds. Sadly his aunt died in 1969 after being hit by a milk truck.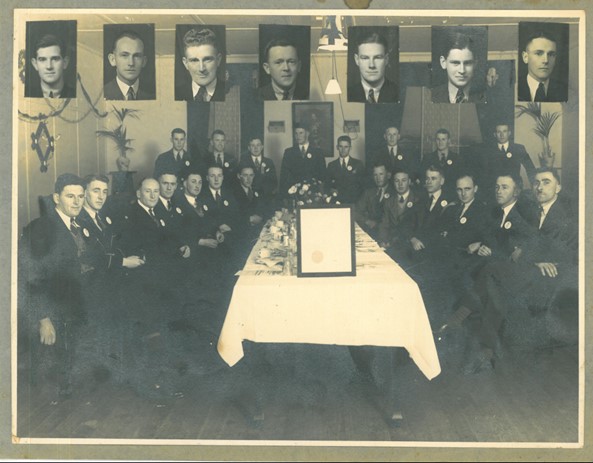 Both of Alan's parents, Nuel Woolvett Wallace and Alice Gertrude Louisa Hamlyn, and all four of his grandparents – George Andrew Clarke Wallace and Alice McCoombe; Aaron Hamlyn and Sarah Ann Coombs are buried in the Colac Cemetery, an enduring link for the families to Colac.
We were pleased to be able to show Allan this photograph of his father which he had never seen. It is an Apex dinner and Neul Wallace is seated third from the left.
It was lovely to meet Allan and talk about his family and his memories of his childhood in the town. We hope that he enjoyed his trip down memory lane.