By Diana McGarvie
Ida was born in Colac in 1923 the second daughter of Eliza and Milton Brown. She was a little sister to Nancy, despite 8 years difference in their ages they had a strong and life long bond. Milton, a printer in Colac, was the elder of two sons of William and Jane Brown (nee Hebb). Milton's father, William, and his brother, George, as young men, immigrated to Melbourne in 1869, from Ely in Cambridgeshire after the death of both their parents.
Eliza's family, the Dennings, ran a confectionery store in both Colac and Geelong, their antecedents having lived in the goldfields of central Victoria; arriving in this country during the mid 1850s. (from Athlone, Ireland). Eliza's father was a boot maker in Maryborough, before moving to Williamstown, later to Geelong, and then Colac, where he ran a confectionery business with his wife and daughters at 158 Murray St.
Ida attended Colac West State School, and then the Convent. She left school when she was about 16 to work in her father's printing works and stationery store, 'Brown and Holmes'. Ida's nephew, Stewart, still remembers the smell of the ink when visiting as a young child in the early 50s, shortly before the business was sold. In later years she was employed at Bilson's Department store in Murray St.
In 1950 Ida, and her cousin, Betty Brown, set off on the P &O passenger ship the "Ranchi", bound for the U.K. It was an extraordinary adventure, sailing through the Suez Canal, stopping at many exciting Mediterranean ports, finally arriving in London. They stayed at Bryanston House, near Marble Arch, to begin with, and acclimatised themselves to life in London, met up with other travellers, as well as keeping in touch with some of those they had befriended aboard the "Ranchi". While the European summer lingered they took themselves off to the Continent, enjoying the sights and experiences of places they had only read about.
On their return to London, they moved to a flat in Earls Court, and both found employment, earning only meagre salaries, but enough to pay their board, and to attend much of the night life of this great city, without dipping into their travel savings. The opera and concerts at Covent Garden and The Royal Albert Hall were definitely on the agenda, as music was a priority to Ida. There had always been music in her life, her father sang in the St. Andrew's Church Choir for over 40 years, as well the town band. (His father, William, had been a choir boy at Ely Cathedral School, before immigrating to Australia). Her time abroad consolidated this love, and she frequently attended these concerts, sitting up in "the Gods". Another special entertainment was the live theatre in London, for which they were spoilt for choice.
During her time away she wrote long, descriptive letters to her parents. Much of the content of her letters home was taken up in describing these plays, actors and costume details, which she found most enthralling. Several of these letters were published in the Colac Herald at the time under the heading – "The Brown Girls Abroad" and proved to be invaluable at a later stage of her life. Her descriptions of life in Britain and the Continent so soon after the end of the war were intriguing, from buildings still showing scars of bombing, to discussions with soldiers, as they travelled on the trains, about the still uncertain political situation on the Continent, as well as the price of food and clothing and the use of ration cards. Ida had an astute ability to pick up and describe the atmosphere of war time austerity and allied occupation of shattered Europe.
Ida was an intrepid traveller; she flew in a small plane over Mt Heckla, the Icelandic volcano near the Arctic Circle. Her description of the colours of this spectacle was remarkable; it must have been a truly memorable experience. She always loved Spain and wanted to travel on her own through the Basque district, but was warned off by a friend, as it was too dangerous. She travelled to Vienna and experienced firsthand a divided city with Russian, French, British and American zones similar to Berlin.
Throughout all of this whirlwind travel, there was a good friend who 'guided' the girls with any of their proposed destinations. Reg, an obviously well travelled passenger on the ship, became a 'constant' in their circle of friends, and looked out for the girls, often talking them out of travelling to potentially dangerous areas of Europe. Reg and Betty eventually married and his real job was revealed, he was an agent working in the secret service. Little wonder he was fully aware of any trouble spots before anyone else.
Ida returned to Australia and was offered a job as a journalist for the 'The Argus', but her interests lay elsewhere. In 1954 she and Ian McIntosh were married at St. Andrew's Church in Colac. Ian's school teaching took them to Condah, where they lived in an education department house for a short time, before being promoted to a position at Heywood school. Andrew was born in 1955, and by this stage, Milton was suffering from memory loss, so they decided to move back to Colac, and, living with her parents at Grant St., were able to help with the father's care. Daughter, Alison was born in 1959.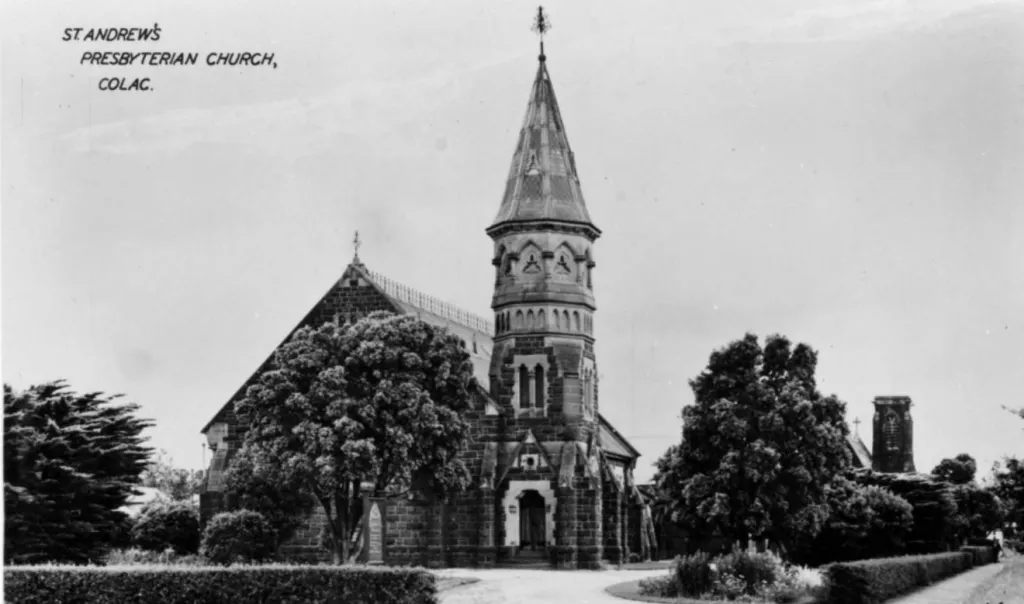 Now with a young family, Ida joined committees, book clubs (one that ran for 60 years), discussion groups, and of course a great commitment to the Colac Historical Society, where she and Nancy were part of the driving force behind the "The Sunday Painters Exhibition". Her letter writing continued also, albeit in a different vein. She would campaign against the destruction of historic buildings, or the removal of beautiful trees, or the over development at her beloved Lorne. She would write articles, contribute to newsletters, and speak on local T.V or radio, anything to get her message across.
In 1975 the couple embarked on a new project – they purchased "Mooringarara" one of Colac's earliest remaining homes in Wallace St., beside the Barongarook Creek. This house was built in 1854 being the early home of Drs. Nankivell and Rae. This was a huge challenge, and the house and garden required much work, but they committed themselves to it together, restoring it and the grounds in the style of its original splendour.
Unexpectedly, Ian died in 1984, a devastating shock to all the family. This was a very difficult time in Ida's life and it took everything she had to push through it, but she did.
She then found a new project researching and writing "Forest, Lake and Plain" The History of Colac 1888 – 1988, continuing from where her great uncle, Isaac Hebb left off, after documenting the first fifty years of Colac's history. This book was partially funded by the Australian Bicentennial Authority, and the information gathered and recorded with the help of her many friends at the Colac & District Historical Society. However, to read her reference notes at the end of each chapter is to understand Ida's personality. The number of people she either interviewed or wrote to seeking information is quite remarkable. This invaluable reference book, whilst full of facts, is dotted with personal anecdotes making it easy reading and widely used by researchers at our history centre.
In 1987 Ida moved to her beloved Lorne and "Mooringarara" was taken over by her daughter and son-in-law and family. The family had camped at the Erskine River each year from before she was born. This was a happy time for Ida; she had become a grandmother, and enjoyed being a member of a dedicated group of conservationists – "The Friends of Queens Park". She continued writing articles, attending meetings and gatherings in the bush, where they worked pulling weeds, and lobbying various authorities in the interest of the local environment.
In her later years she moved back to Colac and lived in one of the St.Johns' Church units. From here she could walk every day to the gardens or the street, and was often seen at her favourite cafes or the Garden's tea rooms, always chatting to people of all ages.
Finally she needed more care and was admitted to Corangamarah Aged Care facility. Her eyesight and hearing were failing, so family visited regularly and read to her as much as possible. This was difficult during the pandemic lock down periods, so we typed up some of her travel letters, delivered them to Corangamarah, and a very thoughtful staff member would read them to her at morning tea time. This brought back those memories of her exciting travels, which she so enjoyed. Ida was an environmentalist, a dedicated community member, a wife and mother, and an immensely proud grandmother and great grandmother. She seemed to retain the personality of her young self, and had a calm and collected demeanor, always more interested in other people's stories than her own. Whilst small in stature, she was loved and revered by all her family and those whose lives she encountered