The story of Anne & George Ball by Mary Day
Anne Ball (formerly Baylis, nee McLaughlin) 1825 – 1890 & George Ball (1834-1888)
Life was hard for many of our settlers and being the licensee of hotels or public houses, in the early days was exceedingly difficult and eventful. Two of our early pioneers who are both pre 1900 burials in Colac, were hotel licensees. Records indicate that some of their descendants and in-laws were also in the same business.

Using old newspapers for research, many articles were found regarding licensed houses in the 1800s. An Annual Licensing Day was reported in the Geelong Advertiser and Intelligencer on 25th April 1855. At these annual hearings, the licences were mostly renewed without issue, however, police, or the owner of the building, or other interested bodies could object. Objections varied but could be because the hotel was a known hangout of criminals, or the house was unclean and not fit to be licensed. "Fiddling and dancing on the premises" cited as opposition to a license request made interesting reading.
The Geelong Advertiser reported that quarterly licensing meetings were also held, and it was at these quarterly meetings that a licence could be transferred from one person to another if all parties agreed.
Apart from providing accommodation and the sale of liquor and meals, hotels could also be used for public meetings and for the holding of Coroners Inquests. In one terrible case in February 1879 the bodies of a family who were burnt in a fire were brought into a back room of the Wheelwrights' Arms Hotel in Colac where the licensee at the time was George Ball, Jnr.
Hotel licensees also appeared in court on numerous occasions for a variety of reasons. They could be there as the witness, the plaintiff or defendant in a matter before the courts, or for license applications, renewals or a breach of their license.
George and Anne Ball were descendants of a labourer and a weaver, respectively, so it is quite possible that this was a new occupation for both of them. It is probably unlikely that when they arrived in Australia, they thought they would finish up as well-known hoteliers.
Anne Ball was born Anne McLaughlin in Londonderry Ireland in 1825 to Michael and Bridget McLaughlin (nee Doherty). Anne lived in the Colac-Camperdown area from around 1850 to her death at her home in Hesse Street in 1890. In this time, she was to give birth to eleven children and was married twice. Apart from her birthplace and that she listed her father as a labourer, we know nothing about her family and their life in Ireland.
George Ball, Anne's second husband was born in Colne, Lancashire in England in 1834 the son of Thomas and Elizabeth Ball (nee Keen). According to George's death certificate, he spent eight years in New South Wales before coming to Victoria and the Western District, though no other records have yet been found regarding his time there.
George and Anne were married at St Andrew's Church in Colac on the 15th of February 1858. However, as mentioned, George was not Anne's first husband. Anne was previously married to John Baylis, a labourer, in 1850 and they had four children: Fanny c1852, Bridget c1853, John c1856 and George 1858. Tragedy struck the young family in 1857 when John "went mad" and was first taken to Geelong Gaol and from there, transferred to Yarra Bend Lunatic Asylum where he died a few months later. Research has been unable to prove where he was buried. It is likely that he was buried in a communal grave at the Asylum. Whilst some bodies were buried in separate graves it is unlikely for John Baylis as he had been admitted as a pauper patient. Over the years some bodies were reinterred in common graves at the Melbourne Cemetery, but it is possible that several bodies still lie below what is now a golf course.
Although a subscription was organised by a neighbour to support Anne, she would have welcomed her second marriage to George Ball and the chance to continue her life and raise her four young children. Seven more children were born in her second marriage: Margaret (aka Elizabeth) 1859 – though she died at 2½ years of age from Diptheria, Anne Elizabeth – also known as Elizabeth (1862), George, Jnr, (1865), Harriet (1867), James (1869) and twins Thomas and William in 1872.
In 1869 whilst George Ball was a labourer and dry stonewaller, working for Hugh Murray, he was in the paddocks with his stepson John Baylis when they spotted a rabbit. The pair took off after it and John saw it disappear through a gap in some stones. When he pulled out some stones to try to locate the rabbit, he found a human skull. Investigations by police established that the bones were of a shepherd, Thomas Brookhouse, who had gone missing fifteen years earlier. The newspapers carried detailed accounts of how the body was identified and how finally Patrick Geary and his wife, Margaret Geary, were charged with his murder. Margaret was acquitted but at the conclusion of the trial the jury pronounced Patrick as guilty. A very moving article in the Weekly Times on Saturday, 25th November 1871 gives understandable insight into how the judge found the task of ordering Patrick to be hanged very hard, though he had no hesitation in believing from all the evidence that Geary was guilty of the murder as charged.
It was just a couple of weeks later when a very well attended funeral took place for Thomas Brookhouse, as he had been well liked in the district. He was buried at the Colac Cemetery on Saturday; 9th December 1871 and a previously prepared tablet was erected over the grave.
In 1875 research found the first mention of the George Ball being involved in hotel licensing. The Colac Herald reported an article attributed to "The Belfast Banner" of a trial, for a man named Sinclair. The story identified Mr George Ball as being a hotelkeeper in Colac who had unknowingly purchased a horse, saddle and bridle from a thief, who was gaoled and later pronounced insane.
Around the same time, the Colac Herald reported items from the Licensing Court and stated several licenses were granted without opposition. Included on the list were: George Ball, Prince of Wales Hotel and George Ball, Jnr, Wheelwrights' Arms hotel. Anne and George's son, whose birth was registered in 1865 would only have been thirteen years of age at this stage so it seems unlikely that he would be granted a licence.
George, Snr, seems to be having some money problems in late 1879 and according to reports, appeared in the insolvency court. He was also in court in May the following year in an argument over the cost of buggy repairs.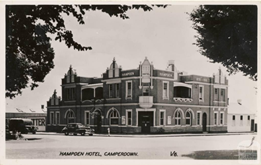 Anne Ball advertised in the Camperdown Chronicle in 1882 of her intention to apply for a licence of the Hampden Hotel, Camperdown, "containing 14 rooms exclusive of those required for use of family". With the railway line from Colac due to open soon, which it did in July 1883, Anne may have thought it was a good time to get into the hotel business. Anne held this licence for six years. Newspaper reports show she appeared in court at least three times for seemingly small matters relating to goods and trade.
1888 was a year of mixed blessings for Anne.
Son John Baylis died and Anne applied for Letters of Administration for his estate.
Daughter Anne Elizabeth Ball married William Stewart.
Son George Ball, Jnr, was injured in a gun accident whilst out shooting with his father and brother.
Anne handed over the licence of the Hampden Hotel
Husband George died shortly afterwards on 10th July 1888 of cirrhosis of the liver.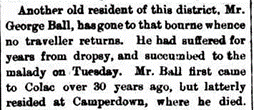 George's death was mentioned in an article in the Colac Herald three days later when it was reported that he "has gone to that bourne whence no traveller returns".
After her husband's death Anne left Camperdown and she supported her son James's application for a licence to take over the Prince of Wales Hotel Colac from his brother-in-law, Walter Wiles. However, she had to take out the licence in her own name as James was decreed to be too young as he was only 19 year of age.
At the Colac Licensing Court hearing Anne is on record stating she didn't want it in her name as she was suffering ill health. Her daughter Harriet who had been suffering ill health for a couple of years died at 22 years of age from Phthisis (Tuberculosis) in May 1889. Newspaper reports tell of a few more small court issues and these along with Anne's ill health attributed to the fact that she was forced to hand the licence over on 30th July 1889. Anne died when 65 years of age at her residence in Hesse Street on 13th March 1890, after suffering for 2-3 years with cirrhosis of the liver.
Whilst we have records of some of Anne and George's family living near them and involved in the hotel industry it has not been possible to establish what happened to them all.
Fanny Baylis, Anne's first daughter married Walter Wiles in 1873. When Anne came back to Colac it was this son-in-law who preceded her as the licensee of the Prince of Wales.
Bridget Baylis married Thomas Hucks in 1879, they had three children. Though no record of their involvement in the hotel industry was found, Thomas was listed as an Examiner of trains in documents in 1884 and was listed as the informant on Anne Ball's death certificate.
In 1884 a family group travelled to Melbourne to attend the races. Newspaper reports indicate that they had runners in the local amateur races around Camperdown and this would have been a much anticipated outing. However, John Baylis became ill shortly after their arrival in Melbourne, the day before the running of the Melbourne Cup, and he died from inflammation of the brain. His body was returned to Colac on the train for burial at the Colac Cemetery.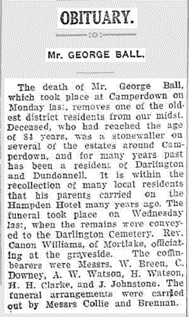 George Baylis has been difficult to trace. It is possible that the Obituary for Mr. George Ball published in the Camperdown Chronicle in 1934 is for George Baylis. The age mentioned in the article and the fact that he was reported as constructing stone walls indicate it could possibly be him, though of course it could also be for George Ball, Jnr, and have the incorrect age. The coffin bearers are not names that have so far been linked to the family.
Anne Elizabeth Ball married William Stewart at Christ Church Geelong in 1888. They had three children. The Electoral roll of Ballarat in 1914, listed the following details: William Stewart, publican, Robert Roy Stewart, motor car driver, Elizabeth Stewart, home duties and Elizabeth Esther Stewart, home duties. The address given was where The Mallow Hotel was situated at 18 Skipton Street, Ballarat.
George Ball, Jnr, has also been difficult to trace and verify that reports found are for him. However, an article in the Camperdown Chronicle on Wednesday 5th March 1884 would seem most likely to be him. It was reported that George Ball, Jnr, along with his father and brother, went on a shooting and fishing excursion to the Emu Creek where they camped overnight. George Ball, Snr, shot a double barrel shotgun at some game and George, Jnr, reloaded the gun, but erroneously loaded the barrel that was already loaded. When George, Jnr, then proceeded to shoot at game the gun burst and inflicted serious damage to his left hand, with the forefinger completely blown away.
As mentioned earlier an article in the Colac Herald indicated that a licence was issued to George Ball, Jnr, for the Wheelwrights Arms Hotel in Colac when he would only have been 13 years of age. He would also only have been fourteen years of age when this item was published in the same paper.
Harriet Ball did not have a long life and died from Phthisis (Tuberculosis) when she was only 22 years of age. Her two brothers-in-law, William Stewart and Thomas Hucks, were informants listed on her death certificate. Harriet's funeral left the Prince of Wales Hotel for the Colac Cemetery on 22nd May, 1889.
Interestingly the only article discovered relating to James Ball is when he applied to the Colac Licensing Court requesting that the licence of the Prince of Wales Hotel be transferred to him from Walter Wiles (his brother-in-law). James deposed that he was 21 years of age and this was backed up by Anne saying he was 21 years of age five days before Christmas. The licence was granted as Anne was going to live in the hotel along with James's sister, also experienced in hotel keeping. Immediately Supt Toohey challenged this and was given time to send for the Registrar who arrived in due course with evidence that ascertained that James was only 19 years of age having been born on July 3rd 1869. The board accordingly revoked the licence and gave it to his mother, Anne Ball, who had also prepared an application as she was aware the police were of the opinion James was too young to conduct a hotel.
Apart from the record of the birth of the twins, Thomas and William, in 1872 and them being listed as still being alive on their father's and mother's death certificates when they were 16 and 18 respectively, no further information has yet been found regarding their lives.
Written by Mary Day
from research by Raye Loughnan